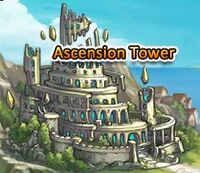 The Ascension Tower is a multi stage challenge tower in which players can gain rewards and Tower Coins to spend in the Tower Shop. The Tower is accessible from level 25.
How it Works
Each player gets to take on the Tower for free once per day, after this Tower Tickets are required. Tower Tickets can be purchased for 30 Gold each and gained in various loot tables throughout the game.
Starting on the first level, players fight up the tower until defeated or reaching the 50th floor. Upon being defeated, player's use another Tower Ticket to continue.
Player's select loot from a Boss style loot table after every successful battle, with prizes increasing in value as progression is made up the Tower.


Reset Time
Tower progress is reset at 5 AM Server Time each Tuesday or can be manually reset by players for Gold at any time.
The only exception to this is when a player is still online during the weekly reset and has an active ticket (hasn't yet lost a Tower battle in their current Tower session). In this case the Tower won't reset until the player loses a battle, ending their current Ticket or logs out of the game.
Players can simply logout and login again to manually reset their Tower after the weekly reset.
Tower Shop

Along the way, you can receive Tower Coins randomly as rewards or for completing certain levels.
You may turn in those Tower Coins to redeem the following from the Tower Shop.



Tower Tiers
Below are the different sets of main cards you can face. Sets are displayed in blocks of 3, as are displayed in the Tower.
Opponents are selected at random with some combinations being much more difficult than others.
Levels 1-5
Horseman


Knight

or Pegasus Scout


Crossbowman


Guard


Battle Abbess


Repeating Crossbow Captain


Elven Thunder Archmage


Elven Praetorian


Blessed Elven Samurai


Dread Phantom


Ghost


Zombie Swordsman


Champion Knight


Paladin


Templar


Ogre Hercules Ringleader


Thunder Lizard


Spiteful Bat


Senior Ogre


Ogre Ringleader


Goblin Poacher

Levels 6-20
Chief Hrafn


Armoured Lizard


Centaur Guerilla Leader


Chief Hrafn


Tengu Assaulter


Feles Assassin


Blessed Elven Samurai


Elven Praetorian


Elven Thunder Archmage


Guard


Battle Abbess


Repeating Crossbow Captain


Pontiff Faol


Demon hunter Azrael


Crusader Lucanus


Champion Knight


Paladin


Templar


Prince Serka


Ofeigur the Undying


Zombie Captain

or Desperate Soul


Prince Serka


Vampire Lord


Vampire Archmage


Horseman


Knight

or Pegasus Scout


Crossbowman


Ogre Hercules Ringleader


Thunder Lizard


Spiteful Bat


Opelia West-Wind


Eacann the Charger


Pegasus Raid Leader


Senior Ogre

or Chief Sharptooth


Ogre Ringleader


Goblin Poacher


Tengu Shadow Warrior


Fiery Hound


Champion Knight


(Floor 15+)
Velyn the Unscarred


Blessed Elven Samurai


Elven Praetorian


(Floor 15+)
Demon hunter Azrael


Crusader Lucanus


Repeating Crossbow Captain


(Floor 15+)
Mifzuna the Wind


Horseman


Pegasus Scout

Levels 21-25
Velyn the Unscarred


Blessed Elven Samurai


Elven Praetorian


Demon hunter Azrael


Crusader Lucanus


Repeating Crossbow Captain


Mifzuna the Wind


Horseman


Pegasus Scout


Champion Knight


Paladin


Templar


Prince Serka


Ofeigur the Undying


Zombie Captain

or Desperate Soul


Prince Serka


Vampire Lord


Vampire Archmage


Chief Hrafn


Armoured Lizard


Centaur Guerilla Leader


Pontiff Faol


Crossbowman


Horseman


Chief Sharptooth


Ogre Ringleader


Goblin Poacher


Chief Hrafn


Tengu Assaulter


Feles Assassin

Levels 26-35
Kathryn Emberwind


Velyn the Unscarred


Tanwen Wildfire

or Blessed Elven Samurai


Demon Hunter Azrael


Arya the Honourable


Repeating Crossbow Captain


Mifzuna the Wind


Horseman


Pegasus Scout


Kathryn Emberwind


Elven Fire Archmage


Elven Thunder Archmage


Champion Knight


Paladin


Templar


Dragon Hunter Vincent


Pontiff Faol


Crossbowman


Sorann the Unforgiving


King Vel'Assar


Ryli the White Witch


Boss Ragnar


Chief Sharptooth


Senior Ogre

or Fiery Hound


Emperor Augustus


Chieftain Lionroar


Horseman


Undead King Bael


Prince Serka


Princess Sarya


Princess Sarya


Desperate Soul


Ofeigur the Undying


Emrys the Unyielding


Ophelia West-Wind


Eacann the Charger


War Totem


Tengu Assaulter


Feles Assassin


Chief Hrafn


Armoured Lizard


Centaur Guerrilla Leader


Maia Shadowblade


Mifzuna the Wind


Lucius Swift


Storm Lizard King


Ogre Hercules Ringleader


Thunder Lizard

Levels 36-60
War Totem


Tengu Assaulter


Feles Assassin


Prince Serka


Vampire Lord


Vampire Archmage


Undead King Bael


Prince Serka


Desperate Soul

or Princess Sarya


Mifzuna the Wind


Horseman


Pegasus Scout


Maia Shadowblade


Mifzuna the Wind


Lucius Swift


Kathryn Emberwind


Elven Fire Archmage


Elven Thunder Archmage


Kathryn Emberwind


Velyn the Unscarred


Tanwen Wildfire

or Blessed Elven Samurai


Princess Sarya


Desperate Soul


Ofeigur the Undying


Storm Lizard King


Ogre Hercules Ringleader


Thunder Lizard


Demon Hunter Azrael


Arya the Honourable


Repeating Crossbow Captain


Champion Knight


Paladin


Templar


Dragon Hunter Vincent


Pontiff Faol


Crossbowman


Boss Ragnar


Chief Sharptooth


Senior Ogre

or Fiery Hound


Sorann the Unforgiving


King Vel'Assar


Ryli the White Witch