This is where players can trade cards. You can set up your cards for auction to obtain Trading Points, or buy rare cards.
Purchasing cards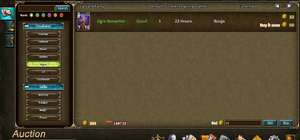 Players having acheived level 35 or a VIP status can purchase cards from other players in the auction house. Cards can be searched for, and either bought on the spot or bidded on.
Player can search search for cards in the auction house by selecting a specific race or class.
A search box also enable searching by the card name.
If the specified card is available, it will be shown in detail including the remaining time, its sellers and time left of auction.
Players can purchase cards through bidding or immediate buying.
Players choosing the 'Buy it now' option will be charged the corresponding amount of Gold. The cards they've purchased are then sent by the system to the players' mailbox.
An auction price is increased by 5 gold each time a card is bid on, and the total amount will be charged from the player right after the bid has been placed. Players can check their outstanding bids in the 'bid on' tab in the Auction House.
If no other players places a higher bid or uses the 'Buy it now option,' the card is immediately sent to the player.
If a player is outbid, the amount of Gold they bid for will be refunded through the mailbox.
Selling cards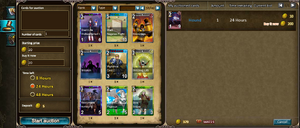 The Auction tab let's you put your own cards up for auction.
Select the card you'd like to sell (it'll be shown in the box on the right) and the quantity if you wish to sell more than one card. Enter the starting price in the first text box, and your 'buy it now' price in the second box.
The system has a set price limit, so you won't be able to go over or under a certain price.
Once you've decided on a time limit for your auction (8, 24 or 48 hours) you can click the bottom button to your put your card up for auction.
The system charges a deposit for each auction, which is shown just above the auction button.
Your live auctions will be shown on the right side of the interface, along with its current status and name of the highest bidder.
The system will inform you with flashing text on the screen as soon as a bid is placed on one of your auctions, and once the auction is over the amount of gold will be sent to you through the mailbox.
After the auction, you'll get the amount of Gold in Rubies.
Rubies
The Auction House currency is Rubies. With them, players can buy Booster Packs in the card shop.
Rubies will be obtained after successfully selling cards in the Auction House.