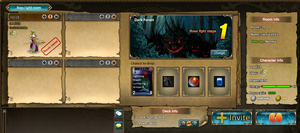 Once you've created a battle or joined an existing one, you will be taken to the battle lobby. This screen gives you an overview of participating players and shows you which items might be granted for picks at the end of the fight. It also shows you at which stage the fight is, as each Boss fight has at least 2 stages with different opponents.
As you create a room, you have the option of inviting people. You can either invite people from your friends list or guild, or send out invites to online players. Once an invite is sent, a notification will flash in the middle of that player's screen, and they will have the option to accept or decline.
When sending out invites, keep in mind that players will want something to suit their own level. If you've created an easy Shimmering Cave battle, higher level players are not likely to accept your invite. Similarly, you can not send invitation for hard level battles to lower level players as level restrictions apply.
Rewards are handed out at the end of Boss fights. Aside from experience and silver, players can select cards to turn over, and will receive what the reward stated on the card. These get more valuable with more advanced and harder battles.
Maps and enemy heroes
| Boss fight map | Stage 1 | Stage 2 |
| --- | --- | --- |
| | "Deft hand" David | Little Jacob |
| | "Death's Embrace" Jakan | Blind Tula |
| | Hook | Clamour, Shriek |
| | Vanguard Ada | Darkwing Leader Falki |
| | Alfheidur, the Nimble | Elven General Arliah |
| | Drillmaster Geir | Judging Hand, Vengeful Shadow, Insightful Eye, Healing Wind |
Boss Tactics
Shimmering Cave
Shimmering Cave (Easy)
Boss Fight Map
Stage
Boss
Total Life
Number of Cards
Cards in Deck
Shimmering Cave

(Easy)

1
"Deft hand" David
30HP
23 Cards

Goblin Rogue
Goblin Bully
Goblin Outlaw
Encourage

Battle Field Objects:
x4 Goblin Mine

Shimmering Cave

(Easy)

2
Little Jacob
40HP
32 Cards

Goblin Rogue
Goblin Bully
Goblin Outlaw
Goblin Bowman
Black Market Caravan
Goblin Poison Archer
Hermes' Wings
Poison Cloud
Fireball

Battle Field Objects:
x4 Goblin Mine
Shimmering Cave (Normal)
Boss Fight Map
Stage
Boss
Total Life
Number of Cards
Cards in Deck
Shimmering Cave

(Normal)

1
"Deft hand" David
42HP
50 Cards

Goblin Rogue
Goblin Bully
Goblin Outlaw
Goblin Poison Archer
Tactic: Sunder Armour
Double Stab
True Shot

Battle Field Objects:
x4 Goblin Mine

Shimmering Cave

(Normal)

2
Little Jacob
56HP
60 Cards


Goblin Mobster
Goblin Bandit
Goblin Bowman
Goblin Poacher
Black Market Caravan
Raid Captain Gubba
Hermes' Wings
Fireball
Blizzard
Lightning Storm

Battle Field Objects:
x4 Goblin Mine
Shimmering Cave (Hard)
Boss Fight Map
Stage
Boss
Total Life
Number of Cards
Cards in Deck
Shimmering Cave

(Hard)

1
"Deft hand" David
75 HP
55 Cards

Goblin Rogue
Goblin Bully
Goblin Outlaw
Goblin Poison Archer
Tactic: Sunder Armour
Double Stab
True Shot
Tactic: Decay
Battle Field Objects:
x4 Goblin Mine

Shimmering Cave

(Hard)

2
Little Jacob
90 HP
80 Cards


Goblin Mobster
Goblin Bandit
Goblin Bowman
Goblin Poacher
Black Market Caravan
Raid Captain Gubba
Hermes' Wings
Fireball
Blizzard
Lightning Storm

Battle Field Objects:
x4 Goblin Mine
Dark Forest
Dark Forest (Normal)
Boss Fight Map
Stage
Boss
Total Life
Number of Cards
Cards in Deck
Other Notes
Dark Forest

(Normal)

1
Mendez the Traitor
63HP
50 Cards

Septic Bat
Spiteful Bat
Elven Longbow Archer
Poison Fog
True Shot
Venomous Bat
Tactic: Decay

N/A
Dark Forest

(Normal)

2
Blind Tula
70HP
60 Cards

Septic Bat
Thunder Lizard
Elven Sniper
Venomous Bat
Storm Lizard King
Lizard
Spiteful Bat
Elven Marksman
Elven Longbow Archer
Senior Thunder Lizard
Armoured Lizard
Collision
Tail Sweep
Ball Lightning
Chief Ironhide

Players start with:
Dark Forest (Hard)
Boss Fight Map
Stage
Boss
Total Life
Number of Cards
Cards in Deck
Other Notes
Dark Forest

(Hard)

1
Mendez The Traitor
83 HP
60 Cards

Septic Bat
Spiteful Bat
Virulent Bat King
Elven Longbow Archer
Elven Marksman
Disinformation
True Shot
Venomous Bat
Tactic: Decay

N/A
Dark Forest

(Hard)

2
Blind Tula
110 HP
80 Cards

Septic Bat
Thunder Lizard
Elven Sniper
Venomous Bat
Storm Lizard King
Lizard
Spiteful Bat
Elven Marksman
Elven Longbow Archer
Senior Thunder Lizard
Armoured Lizard
Aegis Lizard
Cerberus Hegemon
Hell Hound
Collision
Tail Sweep
Ball Lightning
Chief Ironhide

Players start with:
Sanguine Tribe
Sanguine Tribe (Normal)
Boss Fight Map
Stage
Boss
Total Life
Number of Cards
Cards in Deck
Sanguine Tribe

(Normal)

1
Hyde the Manic
75 HP
50 Cards

Colossal Ogre Hercules
Ogre Ringleader
Ogre
Ogre Hercules Ringleader
Frost Nova
Fireball
Scorch
Weaken

Sanguine Tribe

(Normal)

2
Clamour / Shriek
30HP / 60HP
36 Cards / 36 Cards

Ogre Hercules
Ogre Warrior
Armoured Lizard
Lizard
Colossal Ogre Hercules
Aegis Lizard
Ogre Bloodrager
Ogre Berserker
Chief Sharptooth
Boss Ragnar
Zeal
Command: Heroic
Hammer Strike
Landslide
Burning Will
Battle Field Objects:
x4 Archaic Relic Wall
Sanguine Tribe (Hard)
Boss Fight Map
Stage
Boss
Total Life
Number of Cards
Cards in Deck
Sanguine Tribe

(Hard)

1
Hyde the Manic
100 HP
50 Cards

Colossal Ogre Hercules
Ogre Ringleader
Ogre
Ogre Hercules Ringleader
Frost Nova
Fireball
Scorch
Weaken

Sanguine Tribe

(Hard)

2
Clamour / Shriek
36HP / 84HP
55 Cards / 50 Cards

Ogre Hercules
Ogre Warrior
Armoured Lizard
Lizard
Colossal Ogre Hercules
Aegis Lizard
Ogre Bloodrager
Ogre Berserker
Chief Sharptooth
Boss Ragnar
Zeal
Command: Heroic
Hammer Strike
Landslide
Burning Will
Battle Field Objects:
x4 Archaic Relic Wall
Windy Cliff
Windy Cliff (Normal)
Windy Cliff (Hard)
Desert Fortress
Desert Fortress (Hard)
Boss Fight Map
Stage
Boss
Total Life
Number of Cards
Cards in Deck
Other Notes
Desert Fortress

(Hard)

1
Alfheidur the Nimble
100HP
50 Cards


Pegasus Guard
Pegasus Rider
Pegasus Scout
Long Bow Archer
Ophelia West Wind
Encourage

Alfheidur starts battle with:


X4 Spike Wall
X4 Elven Sharp Shooter
X4 Elven Marksman
One per lane

Desert Fortress

(Hard)

2
Elven General Arliah
120HP
100 Cards


Pegasus Champion
Pegasus Leader
Long Bow Archer
Elven Fire Archmage
Elven Fire Mage
Elven Battle Mage
First Ranger Talenor
King Vel'assar
Tanwen Wildfire
Fireball
Petrify
Blizzard

Arliah starts battle with:


X4 Guard Tower (In range of players)
X4 Wind Shelter Wall
One per lane
Castle of Bones
Castle of Bones (Hard)
Boss Fight Map
Stage
Boss
Total Life
Number of Cards
Cards in Deck
Other Notes
Castle of Bones

(Hard)

1
Drillmaster Geir
116HP
55 Cards


Champion Knight
Knight
Paladin
Templar
Guard
Smite
Blessing: Life
Blessing: Armour
Blessing: Resistance

Players Start with:


X4 Skeleton Wall
One per lane

Drillmaster Starts with:
X4 Champion Knight
One per lane

Castle of Bones

(Hard)

2


Judging Hand
Vengeful Shadow
Insightful Eye
Healing Wind

300HP, 60HP, 60HP, 60HP
30, 30, 30, 30 Cards

Angelic Statue
Duelist
Eacann the Charger
Emrys the Unyielding
Crusader Lucanus
Cerberus Hegemon
Emperor Augustus
Wind-Dancer Elke

Shadow Strike (7 Direct Damage to card or hero)
Blessing: Life
Holy Cure (+4 Life to all Horsemen)
Command: Heroic
Command: Martyr
Deadly Blow
Bewilder (Card forgets abilities for 1 round)
Rapture (Direct damage nuke)
Shadow Tempest
Last Stand


N/A
King's Mausoleum
King's Mausoleum (Hard)
Boss Fight Map
Stage
Boss
Total Life
Number of Cards
Cards in Deck
King's Mausoleum

(Easy)

1
Grace
123HP
64 Cards

Zombie Guard
Zombie Swordsman
Zombie Captain
Ghost
Chilling Ghost
Icy Gale Ghost

King's Mausoleum

(Easy)

2
xxxx
xxHP
xx Cards